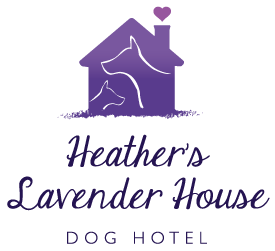 Heather's Lavender House dog hotel in York, North Yorkshire is the perfect alternative to dog boarding kennels. Fully licensed with York City Council for your peace of mind.
If you are reluctant to leave your dog in traditional boarding dog kennels but would like a pet free holiday or need to go away on business then why not let Sue Brook help.
At the dog hotel your dog will be cared for as a family pet and be given lots of fuss and attention. You can rest assured that your dog is being cared for as you would. We have fantastic walks on our doorstep with woodlands, moors and water. All our guests have lots of playtime fun and, are groomed daily. Wherever I go your dog will accompany me in the car unless they are a poor traveller or you prefer them to stay at my home, your dog will not be left longer than 3 hours a day.
Some dogs can find boarding kennels incredibly stressful whereas at Heather's Lavender House dog hotel they will be on their own special holiday!
As qualified and insured at Master level in Animal Healing you can rest assured that your dog is in safe, caring hands.
If you feel that your dog would benefit from healing while they are staying at the dog hotel then please contact Sue for more information and prices.
Benefits of Heathers Lavender House: 
Home from home comfort where your dog lives as part of our family in our home with his own bed, food and toys and we will give him lots of love & care.
Our home is surrounded by rolling hills, moorland & water everything your dog loves to explore on his/her daily walks
A familiarisation visit is required prior to booking and proof of up to date vaccination record and microchip number will be required.
Dogs are exercised twice daily in nearby woodlands 5 minutes from our home.
Holistic healing available; very relaxing, soothing and energy boosting for your much loved dog
Before your dog's stay I always ask for you and your dog to visit our home, this always helps in settling them on the first day of their holiday with us.
You will go away leaving your dog with us with complete peace of mind
We aim to cater for your best friends every need because he is worth it!
Not only do you get to go on holiday but so does your dog too, and we will have photos to prove it
Fully insured for your peace of mind
We are happy to administer both topical and oral medication if necessary
We tailor your dogs walks to suit their fitness and needs
We offer Holiday home Boarding and Dog day care (subject to availability).
Rate : £22 per day (Or part there of) or £35 per day for 2 dogs from the same family. 
Charges start from the day they are dropped off and include the day they are collected – therefore a minimum of 2 days are charged. Bank holidays are extra – Please ask for details. 
Contact to Book Now or for More Information
Optional Animal Healing Sessions 
As a practitioner of Animal Healing, Behaviour, Body work and Zoopharmacognosy; I have lots of experience in looking after your very special and much loved pet.
Sue Brooks AMMH (Master) is a fully qualified and insured animal healing practitioner. If you are interested in your dog having healing sessions when they stay at the dog hotel please get it touch for more information.